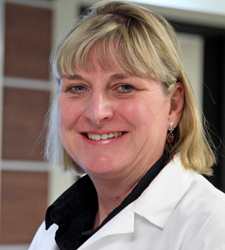 Director of Professional Services at the MUHC
Born in Montreal to Polish parents, mother of 4 sons, Dr. Sidorowicz graduated from the Faculty of Medicine of McGill University in 1981 and completed a residency in internal medicine at McGill's teaching hospitals. She began her clinical career at the Royal Victoria Hospital. From there, she was recruited by the University of Sherbrooke, where she held a variety of positions at its affiliated Charles LeMoyne Hospital, including chief of internal medicine and chief of the department of Medicine for six years.
Over the years, Dr. Sidorowicz cultivated a major interest in the development and evaluation of medical education as well as in the transformation of organizational culture in healthcare. In 2002, Dr. Sidorowicz completed a Masters in Health Administration at the University of Montreal. Thereafter, she spent a year as assistant director of professional services (DPS) at the McGill University Health Center (MUHC: Royal Victoria Hospital). She was recruited to the position of DPS at the University of Montreal affiliated hospital, Maisonneuve-Rosemont where she remained from 2003 to 2009. In addition to her role as DPS' she co-chaired the development of telehealth for the University of Montreal RUIS in collaboration with Quebec's Ministry of Health and Social Services and Canada Health Infoway. She was involved in the promotion of clinical networking and the judicious use of technology in increasing the relevance of clinical practice through the development of telehealth tools.
Since February 2009, Dr. Sidorowicz serves as DPS of the MUHC. She manages the adult site laboratories and imaging departments, as well as the pharmacy department, the infection control service, the medical records and admitting services and the traumatic brain injury program.