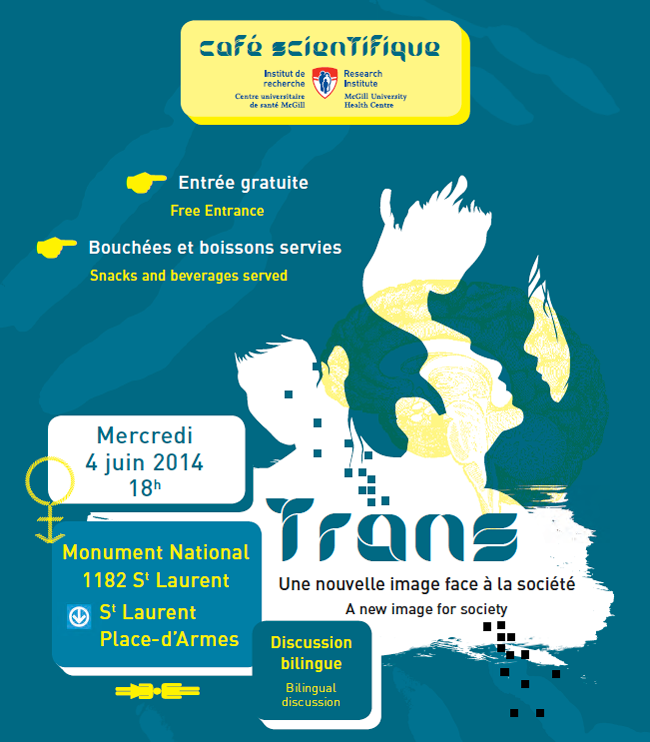 Transgender, transsexual , gender and variance identity: these terms are too vague for most of the general public. There is much that is still not understood about the trans communities and prejudices persist.
Approximately 100 people from the general public, medical community and associations attended a discussion at the Monument National on gender identity and expression. Members from trans* and not-trans communities picked up the mic and debated the challenges faced by transgender people in society.
The evening, moderated by Dominique Forget, science journalist at Québec Science, gathered key players from the community and medical field, involved with trans communities in Montreal.
The event was organized by the McGill University Health Centre (MUHC) and its Research Institute, and was funded by the Canadian Institutes of Health Research (CIHR), all with the common goal of breaking societal preconceptions. Trans communities still too often face challenges in society such as access to care, employment, civil rights and school integration for youth.
1Trans* written with an asterisk indicates a broad conception of trans-ness. It is not limited to transsexuals or transgender persons, but also includes everyone whose gender identity does not match the one assigned at birth.
Our panelists were:
| | | |
| --- | --- | --- |
| GABRIELLE BOUCHARD | | Peer support and Trans advocacy Coordinator, Centre for Gender Advocacy |
| DR PIERRE BRASSARD | | Director of the Centre Métropolitain de Chirurgie Plastique |
| DR PIERRE CÔTÉ | | Family physician at the Clinique médicale du Quartier latin |
| DR SHUVO GHOSH | | Director of the Gender Variance Program at the Montreal Children's Hospital at the MUHC |
| SOPHIE LABELLE | | Author and volunteer for Gender Creative Kids Canada |
| FRANÇOISE SUSSET | | Clinical psychologist and co-founder of the Institute for Sexual Minority Health |
Enjoy watching the videos!