How do we perceive melodies? Can music influence the development of newborns? What role does music therapy play in today's clinical practice?

The McGill University Health Centre teamed up with the Montreal Neurological Institute and International Laboratory for Brain, Music and Sound Research (BRAMS) to bring you this Café Scientifique on Thursday, August 7, 2008.
The event was made possible by a grant from the Canadian Institutes of Health Research (CIHR).
Host:
Isabelle_Peretz, PhD,
Canada Research Chair in Neurocognition of Music,
Co-Director of BRAMS and
Professor, Dept. of Psychology, Université de Montréal.
BIO
Presenters
Christelle Jacquet, MMT, MTA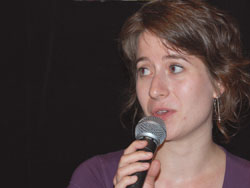 Combining her passion with her work, Christelle Jacquet is a musician and therapist who observes on a daily basis the link between music and cognitive development by studying children at the hospital and in their homes.
Dr. Caroline Palmer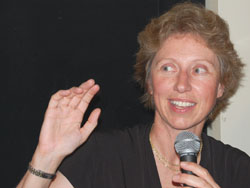 Whether it's to learn how to play a musical instrument or to "move to the beat," the brain has to break down complex actions into sequences of simpler elements. Dr. Palmer and her team study how children and adults learn musical instruments to understand how memory and motor control develops.
Q & A