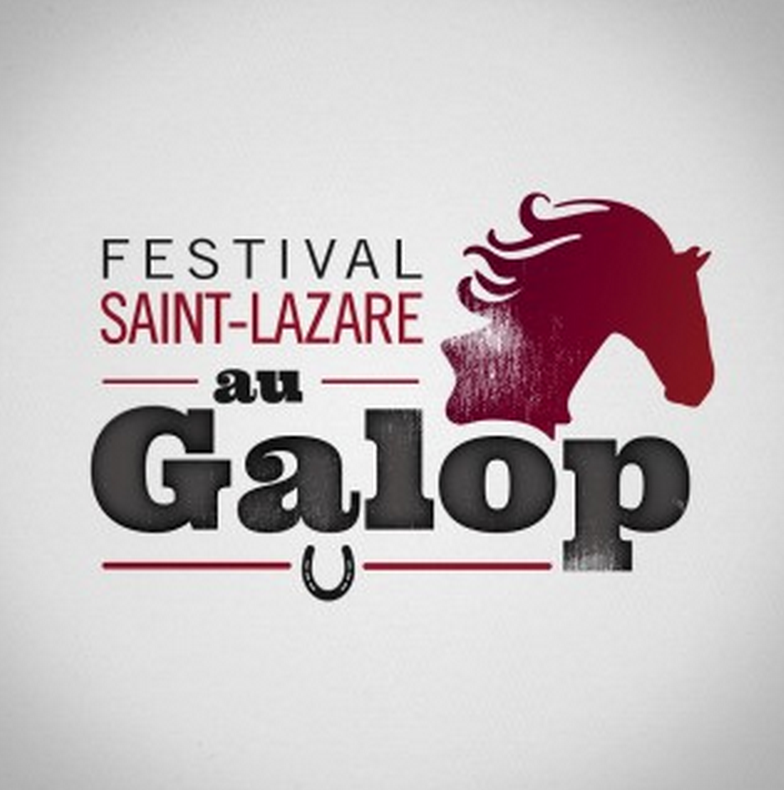 The First Festival Saint-Lazare au Galop Saint-Lazare announces its program
The Town of Saint-Lazare today officially announced the program for the first Festival Saint-Lazare au Galop to be held this year on August 7, 8 and 9.
The 3-day program, which will take place each year at several sites, showcases horses of every type, in all disciplines. The program comprises educational workshops, horse-hugging sessions, shows and equestrian demonstrations, this year including horse-ball, gymkhana and carriage driving. For its first year, the Festival is privileged to host many distinguished guests, including the prestigious RCMP Musical Ride and its 36 riders, the singer Yoan Garneau, winner of the 2014 La Voix competition, Charles Étienne Ménard, artistic coach for Cavalia, the Canadian horse-ball team as well as la Société d'attelage du Bas-Canada and the Saint-Lazare Carriage Driving Club.
Opening and closing events
The Festival will officially open with a traditional cutting of the ribbon on Friday, August 7, at 7:00 PM in the Famille au galop area (located in Parc Bédard) in the presence of elected officials, members of the organizing committee, partners, sponsors and the RCMP.
Charles Étienne Ménard's closing performance will mark the end of the Festival on Sunday, August 9, at 3:00 PM in the Grand galop area of the new Saint-Lazare equestrian park (on Montée Saint-Lazare at the corner of Rue des Loisirs).
Philanthropic mission
Worthy causes
Each year, the Festival intends to call upon the generosity of festivalgoers to support local and regional causes. In 2015, the Festival has decided to support two causes: the Care Mission of the new Cedars Cancer Centre at McGill University Health Centre through the sale of tickets to the RCMP Musical Ride, together with the Centre Équestre thérapeutique Marie Laurence in Sainte-Justine-de-Newton through voluntary donations in certain parking lots near the sites. In addition, in order to raise extra funds for the Cedars Cancer Centre Foundation, two horse-ball teams made up of members of the Canadian horse-ball team, one representing the Town of Saint-Lazare and the other the Cedars Cancer Centre Foundation, will compete in a friendly tournament organized by the Saint-Lazare Horse-Ball
The public can bet on the winning team by buying tickets on site. Half the prize money will go to a lucky winner and half to the Foundation.
The Cedars Cancer Centre serves 63% of the province in a network extending from central and western Montreal to Nunavik, by way of western Montérégie. By purchasing tickets to the RCMP Musical Ride, festivalgoers are assisting cancer patients and their families.
Festivalgoers who make a voluntary donation at participating parking lots will be contributing to improving the quality of life of 30 children in the Vaudreuil-Soulanges area living with illness and physical and mental disabilities by means of horse-riding therapy offered at the Centre Équestre thérapeutique Marie Laurence.
RCMP Musical Ride and Stables
The RCMP Musical Ride has agreed to add the Festival Saint-Lazare au Galop to their 2015 schedule despite their tour planned for Saskatchewan and the Atlantic provinces this year. They will be making a special appearance in Quebec, only in St. Lazare, on August 7, 8 and 9. The stables will be open to the public from Friday, August 7 at 1:00 PM and the performance is scheduled for Saturday, August 8, in the presence of the Festival Guest of Honour, Érika Heather Mergl, a young resident of Saint-Lazare and a cancer survivor. A special performance is planned before the Musical Ride in the presence of local cancer survivors.
Youth at the day camp located at Parc-nature-Les-Forestiers de Saint-Lazare (formerly the Base de Plein air) will also have an opportunity to see the RCMP riders and their horses up close in a more intimate meeting on Friday, August 7.
In Town on Horseback pilot project
On the occasion of its 25th anniversary, authorized members of Club équestre Les Forestiers will come into town on horseback. The riders will add a touch of The Wild West and amaze visitors, who can visit the Club at the rest area near Bar Chez Maurice.
A new equestrian park
The reputation of Saint-Lazare for horses is second to none. Saint-Lazare is an acknowledged equestrian community with many private farmhouses and riders and an extensive trail network of over 100 km. The addition of an equestrian park is a natural step in the evolution of the history of the town and a sign of its commitment to preserving and sharing its equestrian heritage. The Festival now makes Saint-Lazare a player in the equestrian field!
Program
The 2015 Festival comprises four areas, each offering a very varied program for children and adults in an equestrian atmosphere faithfully reflecting the uniqueness of the Town. All activities are free, except the RCMP Musical Ride. The cost of entry is $10. Admission is free for infants under 12 months. Tickets are on sale online at www.augalop.ca/en
FAMILY AREA
This dedicated area for families is located in Bédard Park. A dynamic atmosphere will be created with recreational, educational and fun activities, performances, including the Yoan Garneau concert on the main stage, street activities, various games and a food court including a country market and street food. Keywords: outdoor cinema, face-painting, bonfire, mechanical bull, petting farm, educational workshops, horse-hugging with mini-horses and ponies, photo shoot with the RCMP riders, performances by Charles-Étienne Ménard.
ART AND CULTURE AREA
Enjoy art and culture in the tent on Poirier Street. Exhibitors, cooking workshops, making jewellery and sewing clothes will awaken the creative side of kids and adults. Keywords: exhibitors and artisans, line-dancing demonstrations, exhibition of wooden horses, graffiti wall, airbrush tattoos, cooking/ ecology/art workshops.
SALOON AREA
Chez Maurice will become a saloon during the Festival! A theme show and other surprises will entertain those who stop by. Keywords: Lendemain de veille performance, western games, arm wrestling, horse rest-area for the 25th anniversary of Club équestre Les Forestiers, line dancing.
GRAND GALOP AREA
This area, located behind the Saint-Lazare Sports Complex, will host the stars of the Festival—the horses. The 2015 Festival will present the prestigious RCMP Musical Ride. The stables will be open to the public during the three days of the festival and the RCMP will present their show in the middle of a specially designed area that can accommodate almost 5,000 spectators. Keywords: tours of RCMP stables, RCMP Musical Ride, demonstrations by Saint-Lazare Horse-ball Club, demonstrations by la Société d'attelage du Bas-Canada, and Saint-Lazare's Carriage Driving Club, gymkhana demonstrations, performances by Charles-Étienne Ménard.
For a complete schedule, visit www.augalop.ca/en
Contest
«Meet Yoan backstage » Run to chance to meet with Yoan Garneau backstage together with three (3) of your friends on Saturday, August 8th, 2015 after the show at Parc Bédard (1591, avenue Bédard ) in Saint-Lazare (Quebec). To participate: www.augalop.ca/en.
Safety First
The Festival organizers care about the safety of festival-goers and animals at the various sites. Visitors are urged to respect safety regulations at all times.
Prepare for your visit
For answers to FAQs, visit http://augalop.ville.saint-lazare.qc.ca/en/faq. You will find an interactive map of services, information kiosks, refreshment areas, traffic routes, parking lots and safety regulations around horses. Many activities will be sheltered from rain in the tents, but just in case, bring an umbrella and boots!
Valued Partners, Special Thanks
This first Festival was made possible through the combined efforts of the members of the municipal team and numerous partners. The organizing committee wishes to acknowledge the participation and contribution of the following:
Partners
Émilie Bonnardeaux of Saint-Lazare Horse-ball Club
Diane Goyette of the Saint-Lazare Carriage Driving Club
Marc Langevin and Cathy Tremblay of les Calèches Langevin in collaboration with la Société d'attelage du Bas-Canada
Yves Vendetti of Club équestre Les Forestiers
Dr. Gilbert Hallé, who has agreed to be on-call vet for the RCMP
Erika Heather Mergl, our Guest of Honour and cancer survivor
Corporal Isabelle Trudel and Surintendant Marty Chesser of the RCMP
Jeff Shamie, Estelle Dussault and Anna Burgos of Cedars Cancer Foundation
Rachel Hawes of McGill University Health Centre
Lucie Allard of Centre équestre thérapeutique Marie Laurence
Richard Chartrand of Chez Maurice
Marianne Sigouin-Lebelle du CLD de Vaudreuil-Soulanges
Sponsors
Viva Media Blue Ribbon

Infografilm White Ribbon

National Bank of Canada Yellow Ribbon
Peter Schiefke Yellow Ribbon
Saint-Lazare Business Association Green and Yellow Ribbon
Holiday Inn Express, Vaudreuil Pink Ribbon
MRC Vaudreuil-Soulanges Green Ribbon
Excellence Dodge Chrysler, Vaudreuil Green Ribbon
Sandridge Saddlery Green Ribbon
Special Mention
Festival Saint-Lazare au Galop owes its name to the project L'art au galop by Madeleine Turgeon, visual artist and mosaic artist, which was proposed at a meeting of the Saint-Lazare Cultural Committee in February 2013. Since then, the idea grew and finally came into being under the banner of a festival, of which it is an integral part. Special thanks to Madeleine Turgeon!
The Festival on your calendar for next year
Jot down the Festival in your diary for 2016 right now! It will be held the first weekend of July. Stay tuned for the upcoming dates in 2016! Sign up for our newsletter at augalop.ca.
Download the pdf of the press release
– 30 –
Sources
Valérie St-Amant
Events Coordinator Ville de Saint-Lazare
450-424-8000 ext 214
vstamant [at] ville [dot] saint-lazare [dot] qc [dot] ca
www.augalop.ca
1 844 GO GALOP
1 844 46 42567
Geneviève Hamel Director,
Communications and Information Technology
Senior Officer of the Organizing Committee Festival Saint-Lazare au galop