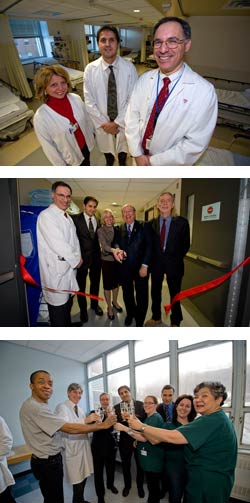 On February 1st 2010, the first phase of an entirely new gastroenterology unit was inaugurated at the McGill University Health Centre's Montreal General Hospital. Senator Angus, Chairman of the Board of the MUHC, clinical and administrative leadership, donors, and staff were on hand for a ribbon-cutting ceremony, tour and reception.
Phase I includes state-of-the-art procedure rooms, a new recovery room with space to isolate patients, a triage area, a laboratory and a room where healthcare professionals can meet with family members.
Dr. Alain Bitton, director of gastroenterology explains, "It is our goal to offer our patients the best, most comprehensive care, and a unit like this with modern equipment will enhance our diagnostic and therapeutic capabilities. The new recovery area and endoscopy rooms will not only help us maintain the privacy, comfort and dignity of patients and their loved ones, it also gives us a better environment in which to train our students and residents." Phase II of this project will create exam rooms/gastroenterology clinic, a state of the art multimedia room, offices and a clinic for respiratory medicine, which shares the floor.
The GI Unit is a fine example of the standards of excellence of the MUHC's redevelopment project. The New MUHC is already a reality for our gastroenterology patients.