Respiratory Medicine
Read more about Advancing Health Care


COPD

Pain
Management

Palliative
Care

Cardiology
Care

Lachine
Campus

MRI
Technology
then
The Montreal Chest Institute—specializing in respiratory medicine for 100 years!
Bedsie care at the Royal Edward Institute, 1930s
Royal Edward Institute
presursor of the Montreal Chest Instute, circa 1910
The Montreal Chest Institute (MCI) and its research counterpart the Meakins-Christie Laboratories constitute two of the foremost centres for respiratory clinical care and research in the world today. Clinical operations began in 1903 when the Anti-Tubercular League of Montreal was established in response to a tuberculosis epidemic that was claiming 12,000 lives a year in the Quebec region alone. Within a year, three doctors were working six days a week, making 900 consultations and 110 home visits annually. In 1909, the hospital was named the Royal Edward Institute, established "for the study, prevention and cure of tuberculosis." It quickly became one of Canada's foremost centres specializing solely in respiratory diseases. The Institute provided public education initiatives and school programs as well as hospital services for tuberculosis patients.
In 1930, the Royal Edward Institute moved its facilities to the Montreal Chest Institute's current address and within two years, was officially recognized as a McGill University-affiliated teaching hospital. Specialists soon began treating non-tubercular cases and broader research projects were initiated in its laboratories. Today, research programs cover a wide range of research methodologies and disciplines related to acute and chronic respiratory diseases, including asthma, chronic obstructive pulmonary disease (COPD), cystic fibrosis, pulmonary hypertension, obstructive sleep apnea, as well as continuing the fight against respiratory infections such as tuberculosis.
Read more about Advancing Health Care


COPD

Pain
Management

Palliative
Care

Cardiology
Care

Lachine
Campus

MRI
Technology
now
COPD meets "Knowledge Transfer" equals top-notch care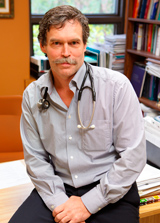 Dr. Jean Bourbeau
MUHC director of the Respiratory Epidemiology and Clinical Research Unit (RECRU) at the MCI
At the Montreal Chest Institute (MCI), Chronic Obstructive Pulmonary Disease (COPD)—the fourth leading cause of death nationwide—is at the forefront of care. The work of Dr. Jean Bourbeau, MUHC director of the Respiratory Epidemiology and Clinical Research Unit (RECRU) and his team have developed a hugely successful initiative called "Living Well with COPD". Most recently a home-based pulmonary rehabilitation program was introduced to the initiative, giving patients an effective and safe alternative to in-hospital programs. The home-based rehabilitation program was conceived and implemented as part of a "Knowledge Transfer" project at the MCI in collaboration with Hôpital Laval, Institut universitaire de cardiologie et de pneumologie de Québec. "Knowledge transfer is our strength; this is why we are so efficient at what we do and why the care we provide to our COPD patients is top-notch," says Dr. Bourbeau. "With knowledge transfer we identify the clinical needs, address the questions, conduct the research projects and then adapt the research into practice." Studies show that rehabilitation is currently the most effective treatment available to improve shortness of breath, effort tolerance and the quality of life of patients suffering from COPD. Through the home-based rehabilitation program more people will reap the benefits of this treatment.
Read more about Advancing Health Care


COPD

Pain
Management

Palliative
Care

Cardiology
Care

Lachine
Campus

MRI
Technology