Golf commentator David Feherty puts on a hilarious show in support of the MUHC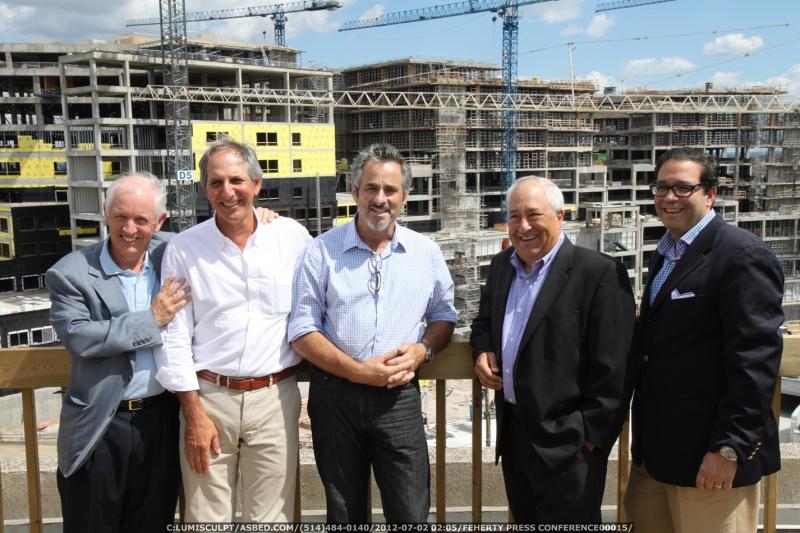 John A. Rae, Chairman of the MUHC's Best Care for Life Campaign; Marie-Josée Gariépy, President of the Montreal Children's Hospital Foundation; Normand Rinfret, Interim Director General and CEO of the MUHC; Jean Houde, Chairman of the Board of Directors of Gaz Métro; Christian Paire, Director General and CEO of CHUM; Guy Savard, Chairman of the Fondation du CHUM Capital Campaign Cabinet; Ékram Antoine Rabbat, President and CEO of the Fondation du CHUM

PRESS RELEASE
For Immediate Release
Montreal, July 6, 2012 – Acclaimed golf commentator and funnyman David Feherty proved he is just as comfortable on stage as he is around the golf course during a live show on July 2 at the Rialto Theatre, which raised $100,000 for the Cedars Cancer Institute of the McGill University Health Centre.
Feherty, a former professional golfer with 10 international victories to his name, is well recognized as a long-time CBS Sports commentator, best-selling author and current host of the Golf Channel's Feherty. His sharp wit and colourful personality were put on display during his show, The World According to David Feherty.
"It's great to be in Montreal and to be supporting the construction of a new Cancer Centre," Feherty said. "They say humour heals the heart and that laughter is the best medicine, so I'm glad that this show is contributing the Cedars Cancer Institute's mission to help cancer patients and their families."
Proceeds will go to the Cedars Best Care for Life Campaign, which is supporting the ongoing construction of a new Cancer Centre at the Glen site next to Vendôme metro station, and to the Cedars Breast Clinic Wellness Initiative.
"Unique fundraisers such as this allow Cedars to continue supporting crucial programs and services for cancer patients and their families," said Bruce Shadeed, chairman of the Cedars Board of Directors. "One such example is the Cedars Breast Clinic Wellness Initiative, which provides patients with educational and practical tools essential to their well-being, like psycho-oncology, exercise programs, lymphedema therapy, and breast cancer educational programs."
Michael Darwish, event chair, said the evening drew a large number of golf enthusiasts eager to see Feherty in person. "This was a unique opportunity to meet one of golf's most recognized figures," Darwish said. "In the end, I think everyone walked away with a greater appreciation for Mr. Feherty's versatility as not just a top-notch golfer and commentator, but also as a very funny entertainer."
-30-
About the Cedars Cancer Institute
The Cedars Cancer Institute is a hospital-based charity whose mission is to provide comprehensive cancer care for all cancer patients – pediatric, adolescent and young adult (AYA), adults and those in palliative care – who are being treated at the McGill University Health Centre (MUHC). The Cedars Cancer Institute fulfills this mission by providing much-needed funds to:
Purchase state-of-the-art diagnostic oncology equipment
Improve facilities for the treatment and care of cancer patients. Accomplishments include the creation of the Cedars Breast Clinic at the Royal Victoria Hospital, renovations to Sarah's Floor – the hematology/oncology division at the Montreal Children's Hospital, renovations to the Palliative Care Unit at the Montreal General Hospital, and much more
Run the Cedars CanSupport program, which offers free psycho-social, practical and humanitarian assistance to cancer patients and their families, as well as financial assistance through the Wilfrid Howick Humanitarian Endowment Fund
Support cancer research through the Henry R. Shibata Fellowship Award
Provide annual visiting professorships in oncology that bring world-renowned researchers, educators and physicians to the McGill teaching hospitals – the Vivian Saykaly Visiting Professorship in Medical Oncology and the Edward J. Tabah Visiting Professorship in Surgical Oncology
Improve awareness of cancer-related issues through free public lectures and educational programs
About the McGill University Health Centre (MUHC) and The Best Care for Life Campaign
One of the world's foremost academic health centres, the MUHC offers exceptional and integrated patient-centric care, research, teaching and technology assessment. Affiliated with the Faculty of Medicine of McGill University, it is highly committed to the continuum of care in its community. The partner hospitals of the MUHC—the Lachine Hospital, the Montreal Chest Institute, the Montreal General Hospital, the Montreal Neurological Hospital, the Royal Victoria Hospital and the Montreal Children's Hospital— value multidisciplinary service throughout the lifespan, innovative technologies and practices, strategic partnerships and leadership in knowledge transfer. The MUHC is currently carrying out a $2.35-billion Redevelopment Project on three sites—the Glen, and the Montreal General and Lachine hospitals—designed to provide healthcare professionals with an effective environment in which to ensure patients and their families get The Best Care for Life. The sites are also anchored in best sustainable-development practices, including LEED® and BOMA BESt guidelines. muhc.ca muhc.ca/construction
The Best Care for Life Campaign is an unprecedented philanthropic effort aimed at raising the funds needed to complete the McGill University Health Centre's Redevelopment Project as well as the Capital Development Plan. muhc.ca/cause
For further information:
Stephen Huebl
Information Officer
McGill University Health Centre
Phone: 514-934-1934 Ext. 71224
stephen [dot] huebl [at] muhc [dot] mcgill [dot] ca