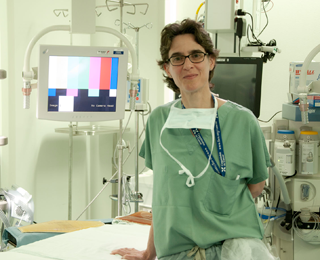 Last year, the McGill University Health Centre (MUHC) celebrated its 20th anniversary of laparoscopic surgery and as one of the first hospitals to perform laparoscopic cholecystectomies (removal of the gall bladder) in Canada. Over those two decades, minimally invasive surgery (MIS, also commonly referred to as laparoscopic surgery) has grown exponentially at the MUHC and is now routinely performed for some of the most complex procedures in the abdomen, including for cancer and transplantation, and sometimes with the use of robotic technology. Indeed, it is the platform of innovation across the entire Department of Surgery.
"MIS is not just the way we do a gall bladder operation or a lung operation, although that is a very important step," says Dr. Liane Feldman, MUHC director of the Division of General Surgery and Steinberg-Bernstein chair of Minimally Invasive Surgery and Innovation. "MIS is part of our philosophy on improving patient care. The pre- and post-operative care also plays a huge role in the entire process, along with state-of-the-art operating rooms; top-notch teaching; and research and evaluation woven into everything we do."
MUHC on the teaching edge of MIS
One of the advantages of having such a robust MIS program is the MUHC has the caseload to be in the position to teach the next generation. For example, in colorectal surgery there are three surgeons committed to MIS. Across North America the penetration of this type of surgery for colorectal resection is stalled at around 15 per cent in terms of case volumes. At the MUHC, we are at 80 per cent. With this type of volume, expertise is highly developed, which in turn provides a rich teaching environment for residents and fellows.
"Teaching, and therefore the development of competency and confidence for our residents to then use MIS when they are in independent practice, is a big part of what our Surgical Mission is all about," says Dr. Feldman. "We also have a fellowship in MIS. When we underwent the accreditation process, we were proud that the site visitor considered ours as one of the strongest programs in North America."
According to Dr. Feldman, research in surgical education is well-integrated into the program. "How we teach these new skills and how we develop technical expertise, are key aspects to disseminating these new technologies safely to benefit the greatest number of patients," she says. In addition, research on and evaluation of new technology and procedures is important. "There are always new ways to do things and new technology, but we must evaluate this stuff rigorously and contribute to knowledge in those areas."
Care before, during and after surgery
The peri-operative care process—the interventions applied to provide care prior to, during, and immediately after surgery—is a very important component of minimally invasive surgery. "The goal of MIS is to minimize the incisions as much as possible so you decrease some of the trauma of surgery," says Dr. Feldman. "But we also have to realize that if you only focus on what goes on in the operating room we won't maximize benefits."
To address the peri-operative aspects of MIS a multidisciplinary team was brought together to develop care pathways for patients to improve the recovery process. Within this context, research is being conducted to try to quantify those benefits for patients. For example: what does it mean to recover from an operation? How do we measure this? And how have these interventions impacted recovery?
"One study, led by Dr. Franco Carli from the Department of Anesthesiology, evaluated the use of an exercise program before surgery to see if this had an impact on recovery for colon surgery. We learned it improved quality of life before the surgery and recovery in those patients whose physical function improved. But it wasn't enough to help all the patients. So now we are starting another trial that includes exercise, nutrition and a psychological intervention before surgery, which includes visualization and relaxation exercises."
Our raison d'être: our patients
Teaching the next generation, keeping at the forefront of technology and procedures, and always evaluating to ensure the best outcomes for patients make up the philosophy of MIS. "Our patients and families come first," says Dr. Feldman. "Everything we do, we do for them. Having major surgery is a life-changing event. "
In the picture: MUHC Resident Maha Alshaibi (left) and Dr. Liane
Feldman performing a laparoscopic cholecystectomy.