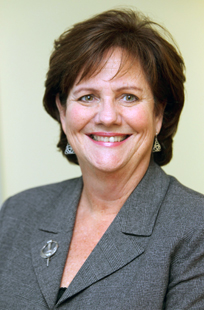 In April 2012, Patricia O'Connor was chosen as one of the key female figures in healthcare in Quebec by the magazine Premières en affaires. Below is an adaptation of the article that appeared in the publication. Congratulations Patty!
Patricia O'Connor is a nurse and pioneer in implementing programs to improve patient safety and quality of care. As MUHC Director of Nursing at the six MUHC hospitals, she has introduced advanced practice roles for nurses, co-lead a best practices program and transformed care at the bedside by engaging patients and frontline staff.
In 2008-09, Patricia was one of 15 persons chosen from six countries for the United States Commonwealth Fund Harkness Fellowship Program in Health Policy and Practice. She received the Montreal Neurological Institute and Hospital's Lifetime Achievement Award in 2009 and the MUHC Valerie Shannon Award for Innovative Leadership for excellence in nursing in 2008.
What keeps her going? She loves what she does. "I am honored to be working with this outstanding group of people: our nurses, nursing assistants, patient attendants and clerical staff at the MUHC," says Patty, who never ceases to congratulate her team and is very proud of the work they do day after day. "It is through their attention to the best clinical practices, ongoing professional development, policy and leadership development, as well as the pursuit of nursing research that they demonstrate everyday their passion for the best possible care. I am very proud to work at the MUHC."
Source: This article was adapted from the magazine Première en affaires for the month of April-May 2012.