Singing in support of a unique mental health outreach program
After three years of creative development and hot on the heels of their tour to France and the Maritime provinces of Canada, Le Groupe MusiArt – the choir of the MUHC Department of Psychiatry – is proud to announce the release of their second album of original songs. The album, titled Perception, will be launched at a concert at the Montreal General Hospital site of the MUHC on Tuesday, November 29, starting at 5 p.m.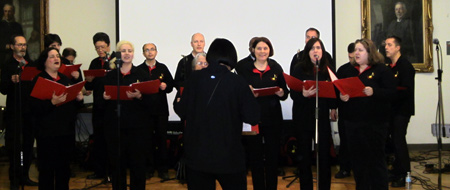 This new bilingual album features 10 original tracks, sung by patients who attend outpatient clinics at the MUHC Department of Psychiatry. The group is directed by MUHC psychologist Dr. Marie-France Boudreault, music therapist Dany Bouchard and pianist Glen Knorr. "The choir members continue to make remarkable personal strides and this new album shows just how far they have come," says Dr. Boudreault. "As well as creating the lyrics and music for each song, the group also designed the album cover, which includes photographs of each choir member."
Le Groupe MusiArt was founded at the Montreal General Hospital in October 1998 to promote awareness of mental health issues, and debunk prejudices through music, from the blues to Christmas carols. "The exercise of making music helps choir members build self-esteem and a sense of belonging, while bringing out their artistic side," says MUHC music therapist Dany Bouchard. "It's also a lot of fun!"
Le Groupe MusiArt's new album was financed chiefly through sales from their debut album, which was an unexpected success. With these funds, the choir has been able to deliver greater sound quality on their second album, which also features a special Christmas-themed track that is sure to get listeners in a festive mood this Holiday Season!
"There's a lot of work to do, but we all truly believe in the project and we're very proud of this second album," says Dr. Marie-France Boudreault. "The choir members are an extraordinarily talented group."