Quebec Tobacco-Free Week
The equivalent of depopulating Huntingdon, Baie-Comeau, Mont-Laurier, Saint-Hyacinthe and Gaspé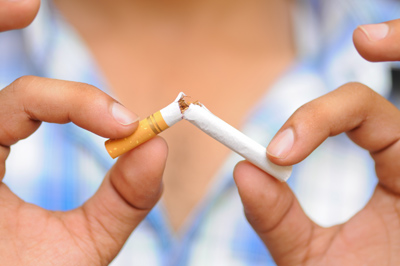 MONTREAL, Jan. 18, 2013 /CNW Telbec/ - This Sunday marks the launch of Quebec Tobacco-Free Week. The Canadian Cancer Society (CCS)—Quebec Division, would like to take this opportunity to remind elected officials and the general public that even if the Tobacco Act has made a major contribution in the fight against smoking, it has not been updated since its enactment nearly 7 years ago. In the interval, the tobacco industry has developed a wide range of new products, and, despite investment in prevention, the smoking rate has remained level at 20% since 2006. For each smoker who quits or dies, another person takes up smoking.
Tobacco use is the leading cause of illness and death. Over 100,000 people in Quebec have died as a result of smoking in the past 10 years, which is equivalent to the combined population of Huntingdon, Baie-Comeau, Mont-Laurier, Saint-Hyacinthe and Gaspé. Smoking plays a role in the development of at least 17 types of cancer, including lung cancer, the most deadly of all. This year, lung cancer will kill twice as many women in Quebec as breast cancer and four times as many men as prostate cancer.
"Still today, smoking kills more people than road accidents, AIDS, drug use, alcohol abuse, fire, homicide, and suicide combined. About 28 people in Quebec die every day due to tobacco use. How can anyone claim that smoking is not our leading health problem? While we strive to eradicate this health scourge, the tobacco industry is working very hard to attract new customers, especially young people. This has to stop!" declares Mélanie Champagne, Coordinator, Public Issues, CCS.
1. Target tobacco promotion
According to the CCS, the tobacco industry's promotion tactics must be targeted. Tobacco manufacturers market ultra-slim cigarettes (which effectively "snare" girls) and flavoured products that are very popular, all sold in packaging that is attractive to youth. Also, electronic cigarettes, which were a negligible consideration a few years ago, have become a real concern. "If electronic cigarettes really helped people to quit smoking, why have two of the world's largest tobacco companies spent hundreds of millions of dollars this year to acquire small manufacturers that make this new product?" asks Ms. Champagne.
Requests
Accordingly, the CCS calls on the government to make the following amendments to the Tobacco Act:
Put a freeze on tobacco marketing by implementing plain packaging for all tobacco products.
Abolish flavours (including menthol) for all tobacco products (cigarettes, small cigars, rolling tobacco, smokeless tobacco products, etc.).
Ban slim cigarettes (less than 7.5 mm in diameter).
2. Target tobacco pricing
The tobacco industry and its interest groups claim that tobacco contraband is widespread and growing in Quebec. The goal of this tactic is simple: to mislead the public and decision-makers into believing that tobacco contraband is a major problem, curb rising taxes, and persuade decision-makers not to focus their attention on the Tobacco Act.
In fact, the incidence of contraband has gone from 30% in 2008 to about 15% today. Most youths purchase their tobacco from legal sources.
Requests
Increase tobacco taxes to the level in effect in Ontario (the province with the lowest tobacco taxes after Quebec).
Maintain current efforts in the fight against tobacco contraband.
"In addition to mortality and the impact on smokers' quality of life, tobacco use is extremely costly for Quebec. The annual impact of smoking is $4 billion in direct and indirect costs, while tobacco taxes generate a mere $900 million for government coffers. We urgently need to strengthen the Tobacco Act through measures that target tobacco product pricing and promotion," states Ms. Champagne in closing.
For the past two decades, the Canadian Cancer Society has played a leading role in the fight against tobacco. The CCS has been active in major initiatives against tobacco manufacturers. As a member of coalitions involved in the fight against smoking, the CCS has helped to raise government and public awareness regarding the damaging effects of tobacco use. For more information, please visit cancer.ca or contact our Cancer Information Service at 1 888 939-3333.




Electronic cigarettes bear an uncanny resemblance to regular cigarettes.
The Canadian Cancer Society is a national community-based organization of volunteers whose mission is the eradication of cancer and the enhancement of the quality of life of people living with cancer. When you want to know more about cancer, visit our website www.cancer.ca or call our toll-free, bilingual Cancer Information Service at 1 888 939-3333.
-30-
For more information, please contact:
mchampagne [at] quebec [dot] cancer [dot] ca (Mélanie Champagne)
Manager, Public Issues
Canadian Cancer Society
Quebec Division
Phone: (514) 651-1470
abeaulieu [at] quebec [dot] cancer [dot] ca (André Beaulieu)
Spokesperson and Senior Advisor, Public Relations
Quebec Division
Phone: (514) 393-3444

Read more: http://www.cancer.ca/Quebec/About%20us/Media%20centre/QC-Media%20releases/QC-Quebec%20media%20releases/Qc-SQAST.aspx?sc_lang=en#ixzz2Id5Z5JEu