Neurosurgeons perform some of the most delicate operations in medicine - a difference of 2 mm can mean life or death for a patient. Exact movements are therefore critical assets of a neurosurgeon. A precise "map" of the territory they will embark upon is mandatory. Enter the neuroradiologist.
A neuroradiologist is a map-maker of sorts. Using various technologies such as x-rays and sound waves he or she creates accurate images of the brain and the nervous system. One of the technologies used in this effort at the Montreal Neurological Institute/Hospital of the MUHC is the biplanar angiogram-part of the MNI/H Angiography Suite and the only one in Quebec.
This biplanar angiogram can layer magnetic resonance imaging (MRI) pictures to produce a threedimensional map of the brain and surrounding blood vessels. According to Dr. Donatella Tampieri, MNI/H Director of Diagnostic and Interventional Neuroradiology, this new technology provides a more accurate view of the size and shape of blood vessels in the brain, therefore allowing the neuroradiologists to provide a more precise "map."
Because information from the biplanar angiogram can be quickly transferred to the surgical team this technology also means better treatment decisions and a significantly decreased amount of time between diagnostic and treatment procedures, allowing for rapid intervention in conditions such as stroke.
"The stroke programs at the MUHC use specialized 'clot-buster' medications which, if administered within three hours of the stroke, can restore blood flow to the affected parts of the brain," says MUHC neurologist, Dr. Robert Cote. "The ability to provide rapid treatment is crucial."
"As a leading neurological centre, the Neuro continues to supply the latest treatments thanks to an integrated team effort requiring close cooperation of physicians, nurses, x-ray technologists and managers," says Tampieri. "Overall, the Angiography Suite equals better care for our patients."
Laser treatment for benign enlargement of prostate - good option
Holmium laser enucleation of the prostate (HoLEP) for patients with symptomatic benign prostatic hyperplasia (BPH)-benign enlargement of the prostate-should be made available in major centres across the country, says Dr. Mostafa Elhilali, MUHC director of Surgery.
"At least in every large centre there should be one person able to do this," says Elhilai, who brought the treatment to the MUHC, the only Canadian site using this technology for any size prostate and in patients with blood clotting problems. He was commenting on the success of HoLEP after a paper on his experience with the technique was presented at the recent American Urological Association conference in Atlanta.
He and associates reported that from March 1998 to September of last year they treated 603 patients with symptomatic BPH. The results indicated that HoLEP - which uses a holium laser to remove obstructive prostatic tissue and to seal blood vessels - represents a safe and effective treatment for patients with symptomatic large prostates. It offers patients who traditionally required open surgical removal of the prostate the alternative of being treated without being cut open. It results in minimal blood loss, improved urinary function, shorter hospital stay and minimal impact on sexual function.
Elhilali said HoLEP will grow increasingly important as the population ages.
Modified from an article written by Joe McAllisterin the June 20, 2006 edition of The Medical Post.
Improving Cardiac Care at The Children's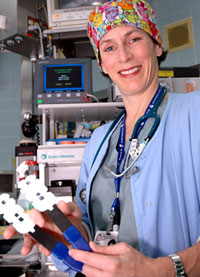 Dr. Josée Lavoie, MUHC director of Cardiac Anesthesia at The Children's Hospital, holding new technology used to measure the amount of oxygen getting to a patient's brain during cardiac surgery. (Photo: Daniel Hélon)
Tracy, Alexandre, Emile and Benjamin are just a few of the thousands of children who have benefited from the expert pediatric cardiac care at The Montreal Children's Hospital of the MUHC. Some of them were born with heart conditions and others developed them later - all required complex surgery to fix their ailing hearts. To better care for and treat these young patients, The Children's Heart Catheterization and Angiography Suite, a state-of-theart facility equipped with the latest technology.
One of the most innovative additions to the Suite is the INVOS Cerebral Oximeter, which is used during heart surgery to monitor the amount of oxygen going to the brain. Sensors, only a little larger than a Band- Aid, are placed on the patient's forehead and then a noninvasive low intensity, near infrared light is used to detect oxygen levels. If these levels drop, risking brain damage or neurological injury, the surgeons can quickly take corrective actions to boost oxygen.
According to the Director of Cardiac Anesthesia at The Children's Dr. Josée Lavoie, this instrument provides direct and accurate feedback about the patient's status. This information is crucial for some of these delicate surgeries.
Two other pieces of equipment have been installed in the Suite - a Processed EEG, which helps determine how much anesthesia is required during surgery, and a Transcranial Doppler, which also measures blood flow.
"The Suite is fantastic," says Lavoie. "Use of these instruments has improved survival rates during surgery and ultimately led to a better quality of life for our patients."