Sustainable development
The MUHC
An Environmental Leader

Already a pioneer in energy-efficient management and with a number of environmental certifications to its name, the MUHC chose to design and operate its new hospital sites according to the requirements of the LEED® program, an international standard in sustainable development. In addition, all our current facilities are certified BOMA BESt (Building Environmental Standards) and the MUHC is building its new facilities to meet these high standards as well.
Signatory of the City of Montreal's Sustainable Development Charter
The only academic health centre serving on the Ministry of Health and Social Services' National Committee for Sustainable Development
Member of the World Health Organization's Health Promoting Hospitals network
Member of the Green Building Council of Canada
First hospitals to be certified BOMA BESt in all of Canada – quite an achievement, considering hospitals must run 24 hours a day.
The goal of the New MUHC is to build something bigger than a health care centre; it is an opportunity to create a truly healing environment.
Green initiaves
In addition to reducing water consumption, the MUHC is focusing on improving energy efficiency and indoor air quality as well as ensuring that its sites are environmentally friendly, that they effectively use materials and resources, and that they are conscious about environmental protection. In terms of accessibility, there is already a shift towards public and active transportation, including making access easier for pedestrians and cyclists and encouraging carpooling.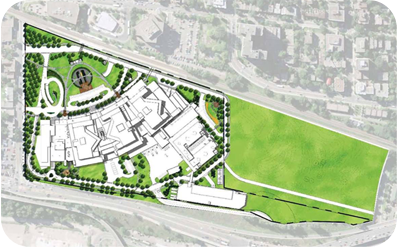 The MUHC is therefore going beyond the borders of sustainable development to create spaces that lend themselves to healing and enhance the workplace while helping the environment. As a public institution and a member of the community, the MUHC wants to make sure that both patients and the environment receive the care and respect they deserve.
The Glen: A healthy site for a world-class centre
In fall 2006, the MUHC completed the environmental remediation of a former brownfield in preparation of giving it a new community vocation as the Glen Site. The remediation was a complete success, coming in on time and under budget.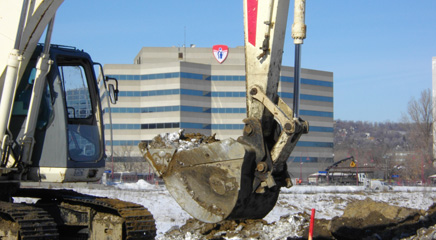 Thanks to a range of environmental measures used during the remediation process, the MUHC received the maximum number of credits towards its LEED® accreditation. As an example, the site was regularly irrigated with surface water that had been recovered and treated on site in order to minimize soil erosion, sediment accumulation in the sewer system and ambient dust. This initiative saved 3,672 million litres of potable water from being used. Similarly, 95 per cent of construction and demolition debris was diverted from landfill for reuse and/or recycling.
Learn more about site-specific initiatives:
Glen site
Montreal General Hospital
Lachine Hospital
LEED: http://www.cagbc.org/
BOMA BESt: http://www.bomabest.com