The Glen Campus
A unique opportunity to combine our talents and consolidate our strengths
The Glen Campus of the MUHC will combine the Royal Victoria Hospital, The Montreal Children's Hospital, the Montreal Chest Institute, the Cancer Centre and the Research Institute of the MUHC at a single ultramodern site. It will also house the Shriners' Hospital right next to The Montreal Children's Hospital.
The services delivered will include:
Single-patient rooms
Ambulatory clinics serving the adult and pediatric departments
State-of-the-art operating rooms for adults and children
Separate emergency departments for adults and children
A neonatal intensive care unit
The Centre for Innovative Medicine and the Centre for Translational Biology dedicated to research
From luxurious vegetation to warm materials, each detail of the new Glen Campus will be carefully thought out. The goal: combine the latest principles in modern and environmental hospital design with the concepts of esthetics, elegance and respect for local residents.
The consortium responsible for designing, building, financing and maintaining the facilities as part of this PPP project will pay particular attention to urban integration as well as to the history and identity of the MUHC's different member hospitals.
A special place reserved for pediatric care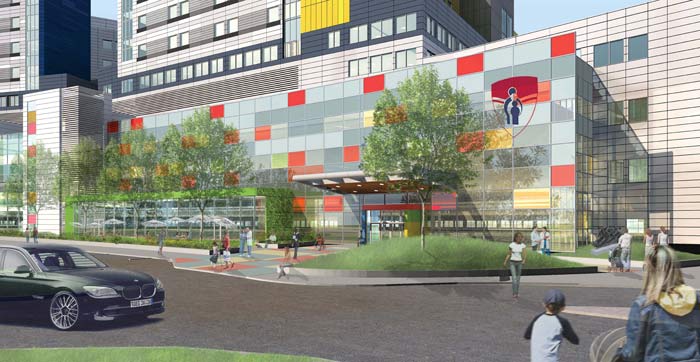 The new Montreal Children's Hospital is taking shape based on the needs of its young patients. Private rooms with comfortable areas for families will help contain infections, while parents will have a space to keep their children company both day and night. Joyful colours and comforting materials will reduce stress from being in the hospital.
The proximity to adult services will allow our health care professionals who work with children and adults to collaborate and exchange information, research results, and treatment plans. More important still, our young patients will pass seamlessly from pediatric care to adult services: a huge plus for young adults who might be anxious or nervous at the thought of changing hospitals or meeting a new doctor and care team.
The McGill University Health Centre's Glen Campus

Road work at the Glen Campus

The MUHC Redevelopment Project

Glen Campus Map