Construction
Building the Glen site
The Glen site is being designed, built, financed and maintained through a public-private partnership (PPP). Our partner, Groupe immobilier santé McGill (GISM), is hard at work to complete the health complex by the end of 2014.
Construction is progressing quickly: once a barren field, the complex now changes every day and is rapidly being transformed into what will be our next centre for healthcare excellence.
Reducing the construction impact in the area
In a concerted effort to reduce the dirt and dust on neighbouring streets, the MUHC's private partner GISM, the Quebec Transport Ministry and the City of Montreal put several mitigation measures in place that have had positive effects:
Additional conventional street sweepers on neighbouring streets
Additional small street sweeper pulled by a van to clean hard-to-reach areas in corners and to do a finishing job
Tanker trucks to wash city streets
Continuous high pressure washing (Karcher) of the road at the exit of the Glen Site
Periodic washing of the truck wheel (a ramp installed to clean truck wheels before exiting the site)
A high-pressure hose operator manually cleans truck wheels before they exit the site
The city street network being cleaned was expanded to include streets reaching St Jacques and Pullman
GISM laid gravel on site roads to reduce the amount of mud on site.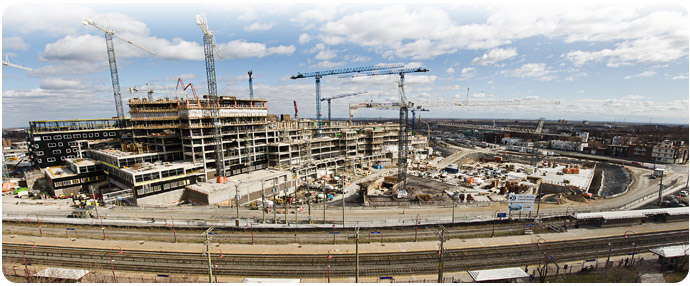 The City of Montreal and Ministry of Transport are carrying out major road and infrastructure work in preparation for the Glen site.
For more information please call or go to: ville.montreal.qc.ca/chantiers / 514-872-3777.
The MUHC is also working closely with the Ministry of Transport to coordinate the road work with the construction of the Turcot interchange.
Contractors, services providers and equipment suppliers
If you wish to offer your products or services within the framework of this construction project, please register in the SNC-Lavalin Supplier Registry by clicking here.
The MUHC is investing $280 million in equipment for its new sites. Within the framework of this procurement process, the MUHC will issue calls for tender on the SEAO website. If you wish to register in our directory as a supplier, please complete this form.