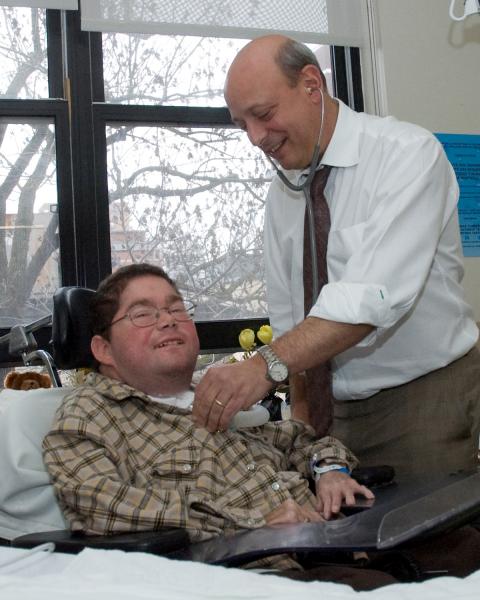 The Montreal Chest Institute (MCI) is not far from the Royal Victoria Hospital (RVH), but for some patients, the few
Two people who look forward to changing that are the MCI's Dr. Dick Menzies: Director of the Pulmonary Division of the MUHC, and Chantal Souligny, Nursing Coordinator, Respiratory Services, MUHC. "Right now, we don't have all the necessary equipment on site which can add time and complexity to the diagnostic process," says Ms. Souligny. blocks can seem like miles. As a specialty institute, the MCI treats patients with respiratory diseases such as asthma, Chronic Obstructive Pulmonary Disease (COPD), tuberculosis, and lung cancer. The MCI offers innovative clinical services, but patients needing CT scans must go to the RVH.
The MCI will occupy space in block D of the new hospital. There will be a seven-bed ICU on the 8th floor immediately adjacent to a 16-bed in-patient ward. The Respiratory Clinic and Day Hospital, including the Rapid Investigation Clinic and interventional suites, and the Pulmonary Function Lab will be on the main floor. The new design will have adjacencies to many multidisciplinary services that MCI patients rely on such as respiratory therapy, physiotherapy, occupational therapy, and social work.
Keeping the MCI's services within a distinct area is important. "Many patients have chronic conditions and are with us for a longer time period," says Ms. Souligny, "so the continuity of care is something they really value." The proximity to the MCH will also make it easier for children with cystic fibrosis to make the transition to the adult programs.
One of the MCI's major strengths is its integrated approach to patient care. When a patient is referred to the MCI, they can receive education and a tailored treatment plan to manage their disease. If the patient develops a problem such as pneumonia, they know how to access MCI services 24 hours a day. If they need to be admitted, the clinic team follows up with them on the floor. "We try to make it as seamless as possible," says Ms. Souligny. "If the primary physician isn't available, we can still treat the patient through our walk-in clinic."
Beyond clinical services, MCI respirologists are very involved in clinical, epidemiological, and fundamental research so proximity to the Research Institute at the new site will greatly improve collaboration between clinicians and researchers. "For the MCI, having thoracic surgery, respiratory medicine, and all clinical and research activities on one site will really solidify our position as a centre of excellence," says Dr. Menzies.