Quality and Risk Management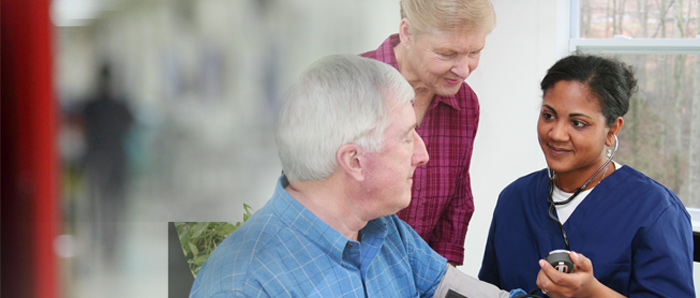 2010-11 Highlights
Accreditation Canada recognized five MUHC Leading practices:
Neurosurgical Navigation Program
Tracheostomy Team
Clinical Triage Process at the Montreal Chest Institute
Intensive Ambulatory Care Service / Clinical Investigation Unit (IACS)
Reducing residual material for disposal
Accreditation

In 2010, the MUHC participated in the Qmentum accreditation program and was visited by Accreditation Canada surveyors. The MUHC met 2,172 of the 2,357 applicable criteria, and was 92.2% in compliance with accreditation standards.
Accreditation Canada Highlights:
MUHC Strengths

A patient-centred focus organization
The people working at the MUHC
A focus on healthy workplace
A strong focus on interdisciplinary care
Numerous examples of clinical excellence
A strong culture of inquiry and innovation
Examples of leading edge of technology
A focus on education
Recruitment and retention program
Environment friendly disposal of demolition waste

MUHC Challenges

The development of the future MUHC (i.e. the transition from the old MUHC to the new MUHC, engagement of stakeholders and deployment of best practices across all sites)
Accessibility to care and services
Communication in a large organization
Space issues

Committee on Quality and Risk
In 2010-2011, the Committee on Quality and Risk (COQAR) met on ten occasions.
The committee consists of 25 members, including:
Members of the MUHC Board of Directors
Members of the community
Patient representatives
A representative from each of the three councils (Council of Physicians, Dentists and Pharmacists, Council of Nurses, and the Multidisciplinary Council)
Senior Management of the MUHC.
The committee reviewed various aspects of MUHC operations related to quality and risk, including:
Sentinel event reports
Incident and accident reports and analysis
Infection Control and Prevention reports
Quality and safety initiatives and outcomes presented by all missions and departments
Accreditation preparation and follow-up of recommendations
In 2010, the MUHC replaced its incidents/accidents database (local registry) by software that is compatible with the Quebec national registry of incidents and accidents.
The MUHC also initiated a Patient Safety and Quality microsite (www.muhc.ca/patient-safety) with the goal of nurturing the culture of patient safety, quality and continuous improvement through accountability and transparency. The site caters to the patient's need for information by creating a user-friendly interface as well as focusing on simplicity of navigation.
Culture of Quality and Safety at the MUHC
The Culture of Quality and Patient Safety at the MUHC evolves from fostering a culture of learning, creativity and innovation, valuing patient, staff and physician empowerment, as well as collaboration, teamwork and accountability.
In 2010-2011 many activities and projects were initiated to increase knowledge acquisition and transfer in order to build our capacity, learn and further develop a quality and patient safety culture at the MUHC. For example:
Learning/education

The MUHC invested in providing training to over 820 students, in the Medicine, Nursing and Allied Health fields from McGill University and Dawson College, by offering an introduction to patient safety principles.
Over 1,185 health care professionals from the MUHC, as well as from other institutions, participated in patient safety training provided by the MUHC.

Creative initiatives to promote patient safety

In preparation for the 2010 Accreditation, the MUHC developed various activities to help clarify the link between accreditation and the contribution of staff members to maintaining patient safety standards as part of their daily routine. It designed its own logo and approach to educating staff, including physicians, by adapting a recognized game (Jeopardy) to Required Organizational Practices. The ROP Jeopardy initiative was presented at the 2010 Canadian Healthcare Safety Symposium.




Innovative teaching on how to disclose an adverse event

In 2010-2011, the MUHC entered in its third year of MOREOB. MOREOB (Managing Obstetrical Risk Efficiently) is a comprehensive three-year program for patient safety, professional development and performance improvement designed for caregivers and admininstrators working in hospital obstetrical units. The themes are: Learning together, working together, and changing the culture. During the first two years the focus is more on clinical skills with an introduction to working as an interdisciplinary team.
In its third year of MOREOB , the MUHC chose to conduct all workshops at the McGill Simulation Centre and have the participants experience a simulated adverse event (with a high fidelity mannequin and an actor playing the part of the birth partner), review the root cause analysis and disclosure processes, and then actually simulate a disclosure conversation with the actors playing the parts of the mother and birth partner. All of the physicians and 90% of the nursing staff participated in this simulation.




Valuing collaboration, teamwork and accountability

Implementation of the Surgical Check list on all sites.
Installation of automated medication cabinets in the Emergency Departments and in remote locations
Medication reconciliation being developed on pilot units
MUHC wide involvement in a quality of care and patient safety initiative to reduce Central Line-Associated Bloodstream Infection (CLABSI) based on the intervention bundles promoted by Safer Healthcare Now!
(Safer Healthcare Now! is a Canadian Patient Safety Institute program which invests in frontline providers and the delivery system in order to improve the safety of patient care throughout Canada by implementing interventions known to reduce avoidable harm).